Whats On The Shelves | March 5th – March 9th 2012
This week sees one of the first big releases of 2012 and the re-emergence of a classic for a second time this year. There's also some third person action blasting onto Sony's PS Vita, just to round things off. These are our picks of the week.
Metal Gear Solid: Snake Eater 3D (8/03/2012) –  3DS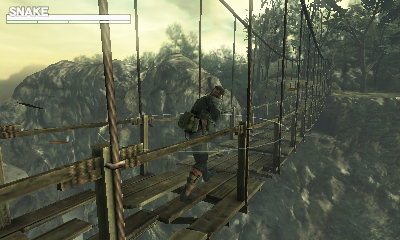 Funnily enough this is the second time this game has been re-released this year. Often marked as one of the best games of all time, Snake Eater hits 3DS this week. Snake Eater continues the mind boggling themes that Metal Gear Solid has became famous for. The length and depth of Snake Eater is just one reason why it's such a celebrated game. The 3DS version takes all the action and craziness and contains it on Nintendo's latest hardware. Snake Eater 3D is a major addition to the growing 3DS library of top titles.
Great story telling and production values
Plenty of length to the game
A classic in a new dimension
Based on the demo, the control scheme is a little clunky.
People may opt for the HD revamp on the consoles
Mass Effect 3: (09/03/2012) – PS3/360/PC
The third instalment of the Mass Effect franchise sees the game head back to earth. Though the RPG elements have been seemingly toned down there are still plenty of elements that appeal. The action is laid on thick, with plenty of set pieces and cinematic moments. Bioware's story telling is for the most part still intact but make no mistake Mass Effect 3 is much more of an action driven game. The single player looks set to tie up all the loose ends and end this chapter of the Mass Effect franchise in style. Multiplayer has also been added to boost the game time and perhaps test out elements for any potential spins off. This is arguably the biggest game of this quarter , never mind this week.
End of Shepards story and the result of two games worth of build up
Return of some loveable characters
Block buster production values will please both eyes and ears
Some may disapprove of the full on action focus of the game
Simply put not, everyone likes sci-fi
Unit 13: (09/03/2012) – PS Vita
This bullet ridden third person shooter is packing a whole lot of action on Sonys new system. Playing as a member of Unit 13 , players will embark on missions that challenge them to take out enemy assets, destroy bases and score points while doing so. Players are rated on their performance via a point system which is based upon how they go about their mission. Different ways of killing results in gaining higher amounts of points. Being stealthy and completing objectives is also a means to scoring points. With plenty of missions on offer (as well as co-op missions) Unit 13 looks set to set the Vita alight. The visuals and audio are top notch and the control scheme works well. A demo is available on the PN store for those wishing to try before they buy.
Third person intense action on the go
Gameplay is smooth and the control scheme works well.
Plenty of replay value in the shape of beating top scores.
Co-op action
Some people may dislike the linear nature of the levels
Unit 13 doesn't make much use out of the Vita's touch screen and touch pad
Third person action isn't everyones cup of tea.